Terms Of Use
We reserve the right to change the Terms of Use for this website at any time without personal notice to our individual members. You are encouraged to revisit and reread this page periodically to ensure that you are fully aware of the current Terms of Use at all times. Please read the following for a detailed treatment of our Terms of Use:
Terms of Use and Service, Form #01.016

Mandatory Member Agreement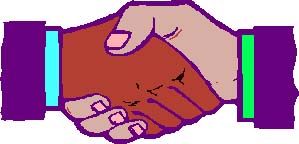 The information and services offered on this website are intended for "nontaxpayers" (OFFSITE LINK) only who have a legal domicile" (OFFSITE LINK) that is either in a de jure constitutional State of the Union or the Kingdom of God on Earth. Click here (OFFSITE LINK) for an exhaustive article on why Christians cannot have a "domicile" or "residence" within any of the de facto governments currently unlawfully in control within the USA. Consequently, no donations to this ministry may be classified as "foreign commerce" within the meaning of Article 1, Section 8, Clause 3 of the federal Constitution and Members obtaining our materials agree not to classify or describe it as such as a precondition of using this site. Our materials and services are NOT intended, recommended, or authorized for use by:
Those who are not Members
Statutory "taxpayers" (OFFSITE LINK) under either United States federal law or Canadian law
Statutory "U.S. persons" (OFFSITE LINK) under 26 U.S.C. 7701(a)(30)
Statutory "U.S. citizens" (OFFSITE LINK) under 8 U.S.C. 1401 (OFFSITE LINK) wherever domiciled
Statutory "residents" (aliens) who are domiciled in the "federal zone" (OFFSITE LINK)or the "United States".
Statutory "residents" (aliens) of Canada. Note that the Canadian income tax is imposed ONLY upon "residents" as shown in Section 2, paragraph 1 of the "Income Tax Act" (OFFSITE LINK) and that Canadian Citizens are NOT "residents", as confirmed by the "Immigration and Refugee Protection Act" (OFFSITE LINK), section 46(1), which says that a person loses their "permanent resident" status upon becoming a Canadian Citizen.
Those with income effectively connected with a "trade or business" (OFFSITE LINK), which is defined in 26 U.S.C. 7701(a)(26) (OFFSITE LINK) as "the functions of a public office". Instead all of our members and their personal and real property are classified as "foreign estates" under 26 U.S.C. 7701(a)(31) (OFFSITE LINK) not subject to the Internal Revenue Code.
Statutory federal "employees" as defined in 26 U.S.C. 3401(c) (OFFSITE LINK) and 26 CFR §31.3401(c )-1. (OFFSITE LINK) Click here for an article on this scam.
Those with any contractual relationship or agency with the federal government. Such contracts include, but are not limited to the W-4, 1040, or SS-5 federal forms.
Tax protesters, tax deniers, or tax defiers.
Those who are anti-government.
By requesting or obtaining our educational materials by any communication vehicle, you indicate under penalty of perjury that you are a "nontaxpayer", a "non-resident", and a "non-citizen national" of the United States of America defined under 8 U.S.C. 1101(a)(22)(B) (OFFSITE LINK) or "national" under 8 U.S.C. 1101(a)(21) (OFFSITE LINK). "Taxpayers" (OFFSITE LINK) or "U.S. citizens" (OFFSITE LINK) or "residents" (OFFSITE LINK) of the "United States" (OFFSITE LINK) seeking educational materials should consult http://www.irs.gov (OFFSITE LINK) rather than this website for information about their tax obligations.
All those using this website, obtaining or using information or materials offered here, attending one of our training courses, or communicating with us on the phone, verbally, or via email or postal mail are deemed to be "Members" and consent fully, completely, and unconditionally with our Member agreement appearing below. Membership is and always will be absolutely free:
Click here for HTML version of our Member Agreement.


Click here for an Adobe Acrobat version of our Member Agreement.
Please submit your completed Member Agreement to the SEDM Forums, Forum #9.7 if or when you decide to obtain either our information, our materials, or become a member of our ministry. Note that we do not send any kind of receipt confirmation when you send your application:
Alternately, you can also email us a scanned image, prefereably in Acrobat PDF format to the email address indicated on our Contact Us page.
Copyright/Software/User License Agreement
This website consists of both copyrighted information and computer software which is protected by a Copyright/Software/User License Agreement. That agreement is found in our Disclaimer Page, Section 5. Please read and heed. Caveat emptor.
Services and Conditions of Use
As part of our service, we agree to provide you with information and other services that we may decide to offer, subject to the terms of this agreement. Upon notice published through the service, we may modify this agreement at any time. You agree and continue to agree to use our services in a manner consistent with all applicable laws and regulations and in accordance with the terms and conditions set out in the policies and guidelines outlined below. Please note that you will be referred to as 'member' in this agreement.
Rules For Online Conduct
By using the service, you agree that you will not attempt to undermine the integrity of this web site.
Disclaimer Statement
Click here to read our Disclaimer statement.
Limitation Of Liability And Warranty
ANY ITEMS OR INFORMATION APPEARING ON THIS ONLINE WEBSITE OR OUR ABBREVIATED CATALOG THAT EITHER INDICATE "CALL" UNDER THE SUGGESTED DONATION AMOUNT, WHICH HAVE NO SUGGESTED DONATION AMOUNT LISTED, OR WHICH MAY NOT BE DIRECTLY OBTAINED ONLINE USING THIS WEBSITE ARE REFERRALS TO ENTIRELY INDEPENDENT THIRD PARTIES NOT PART OF SEDM AND WHICH SEDM:
TAKES NO RESPONSIBILITY OR LIABILITY FOR WHATSOEVER (CAVEAT EMPTOR!)
DOES NOT BENEFIT FROM FINANCIALLY IN ANY WAY EITHER DIRECTLY OR INDIRECTLY.
MEMBER AGREES THAT USE OF THIS WEBSITE AND ALL ITS OFFERINGS IS ENTIRELY AT MEMBER'S OWN RISK. INFORMATION AND SERVICES ARE PROVIDED 'AS IS,' WITHOUT WARRANTY OF ANY KIND, EITHER EXPRESS OR IMPLIED, INCLUDING WITHOUT LIMITATION ANY WARRANTY FOR INFORMATION, SERVICES, UNINTERRUPTED ACCESS, OR PRODUCTS PROVIDED THROUGH OR IN CONNECTION WITH THE SERVICE, INCLUDING WITHOUT LIMITATION THE SOFTWARE LICENSED TO THE MEMBER AND THE RESULTS OBTAINED THROUGH THE SERVICE. SPECIFICALLY, WE DISCLAIM ANY AND ALL WARRANTIES, INCLUDING WITHOUT LIMITATION: 1) ANY WARRANTIES CONCERNING THE AVAILABILITY, ACCURACY OR CONTENT OF INFORMATION, PRODUCTS OR SERVICES; AND 2) ANY WARRANTIES OF TITLE OR WARRANTIES OF MERCHANTABILITY OR FITNESS FOR A PARTICULAR PURPOSE.
THIS DISCLAIMER OF LIABILITY APPLIES TO ANY DAMAGES OR INJURY CAUSED BY ANY FAILURE OF PERFORMANCE, ERROR, OMISSION, INTERRUPTION, DELETION, DEFECT, DELAY IN OPERATION OR TRANSMISSION, COMPUTER VIRUS, COMMUNICATION LINE FAILURE, THEFT OR DESTRUCTION OR UNAUTHORIZED ACCESS TO, ALTERATION OF, OR USE OF RECORD, WHETHER FOR BREACH OF CONTRACT, TORTIOUS BEHAVIOR, NEGLIGENCE, OR UNDER ANY OTHER CAUSE OF ACTION. MEMBER SPECIFICALLY ACKNOWLEDGES THAT NEITHER THE MINISTRY AND ITS OFFICERS OR AGENTS ARE LIABLE FOR THE DEFAMATORY, OFFENSIVE OR ILLEGAL CONDUCT OF OTHER MEMBERS OR THIRD-PARTIES AND THAT THE RISK OF INJURY FROM THE FOREGOING RESTS ENTIRELY WITH MEMBER.
NEITHER THE SERVICE NOR ANY OF ITS AGENTS, AFFILIATES OR CONTENT PROVIDERS SHALL BE LIABLE FOR ANY DIRECT, INDIRECT, INCIDENTAL, SPECIAL OR CONSEQUENTIAL DAMAGES ARISING OUT OF USE OF THE SERVICE OR INABILITY TO GAIN ACCESS TO OR USE THE SERVICE OR OUT OF ANY BREACH OF ANY WARRANTY. MEMBER HEREBY ACKNOWLEDGES THAT THE PROVISIONS OF THIS SECTION SHALL APPLY TO ALL CONTENT ON THE SERVICE.
Legal Or Factual Disputes Over the Content of Our Educational Materials
Members or even disinterested third parties, including government representatives, who dispute the accuracy or integrity of any of our educational materials are encouraged to contact us, and especially prior to undertaking any litigation relating to an injunction against our activities. Before we will respond to them, they must FIRST rebut the overwhelming evidence from the government's own mouth supporting everything we teach by providing in affidavit form an answer to the Tax Deposition Questions (OFFSITE LINK) posted on the Family Guardian Website at:
http://famguardian.org/TaxFreedom/Forms/
Discovery/Deposition/Deposition.htm (OFFSITE LINK)
We are NOT asking for legal advice, and only a fool would ask a question of the government or anyone in the legal profession that he didn't already know the answer to in advance. The evidence in those questions right from the government's mouth is self-explanatory and requires no further elaboration to explain the clear and proper and very limited application of the Internal Revenue Code (OFFSITE LINK). In accordance with Internal Revenue Manual section 4.10.7.2.9.8 (OFFSITE LINK), the rebuttal MAY NOT be based on any court below the United States Supreme Court. Neither may the rebuttal be based on any IRS form or Publication, which Internal Revenue Manual (IRM) section 4.10.7.2.8 (OFFSITE LINK) says MAY NOT BE RELIED UPON to sustain a position. Rebutting the evidence and law appearing in the admissions above will allow us to quickly assess exactly where we differ and better focus our interactions and debate.
Failure by the government to rebut the overwhelming evidence contained in the Tax Desposition Questions (OFFSITE LINK) BEFORE any legal action is attempted against us shall constitute the following:
Evidence of bad faith. Good faith demands that all disputes be resolved at the lowest administrative level BEFORE legal means are attempted, in order to avoid clogging the court and needlessly running up exhorbitant legal fees on the part of the defendant in responding to such needless proceedings which could have been avoided.
Estoppel by default, also called an "estoppel in pais"
Malicious abuse of legal process to effect harassment, financial oppression (paying for representation at 0/hour), and slavery in violation of 18 U.S.C. 1589(3) (OFFSITE LINK).
Under the terms of our mandatory Member Agreement and Copyright/Software License Agreement, will subject the litigant to personal monetary damages of over ,000,000, and make them the victim of whatever legal consequences which might otherwise ensue against us.
We are quite open to amending our materials to remove any imputed inaccuracies upon the presentation of admissible and credible evidence in affidavit form that it is wrong and upon stipulation to admission of all of the materials on this website as evidence in any legal proceeding over which any dispute remains.
"Let the [proven] righteous strike me;
It shall be a kindness,
And let him rebuke me;
It shall be as excellent oil;
Let my head not refuse it."
[Psalms 141:5, Bible, NKJV]
If you want to throw rocks, our Copyright License Agreement and Disclaimer both require that you are going to have to prove FIRST to a fully informed and completely impartial jury of our friends and neighbors sitting in a court from a state of the Union, who are the true sovereigns in our Republican form of government (OFFSITE LINK), that your cause is righteous. You are also going to have to prove this with the WHOLE truth available to the jury, and not just the subset of truth you can abuse and distort with presumption (OFFSITE LINK) and propaganda to favor your position.
"He who is without sin among you [lawyers], let him throw a stone at her first."
[Jesus in John 8:7 (OFFSITE LINK), Bible, NKJV]
Finally, let us not forget the famous words of Abraham Lincoln on this very subject:
"They have a Right to censure, that have a Heart to help: The rest is Cruelty, not Justice."
[William Penn, Some Fruits of Solitude, pt. 1, no. 46 (1693)]
If you aren't willing to help us improve our website by dealing with us one-on one to politely provide evidence and facts we can use to correct any errors you may find, then you have NO BUSINESS maliciously abusing legal process to harass us for expressing our First Amendment religious beliefs and the exhaustive and authoritative scripture, facts, law, and evidence upon which they are based. Those who do so are disciples of Satan, who is nothing but a murderer and a slanderer of everything that is good.
Trademarks
All trademarks appearing on the service are trademarks of their respective owners.