COMPLIANT MEMBERS ONLY CONTENT
"Do not give what is holy to the dogs; nor cast your pearls before swine, lest they trample them under their feet, and turn and tear you in pieces."
[Matt. 7:6, Bible, NKJV]

"For everyone to whom much is given, from him much will be required; and to whom much has been committed, of him they will ask the more."
[Luke 12:48, Bible, NKJV]
A small percentage of the content posted on this website is classified as Compliant Members Only. Compliant Members Only content is accessed through our Member Forums mechanism. Click on the link below to view all Compliant Member Only Content. You must be logged into the Member Forums to do so:
Compliant Members Only Content
Compliant Members Only content includes forms, publications, and litigation tools which are available only to those who have done all the following:
Legal evidence that you are compliant consists of a scanned image of the Certificate of Service for the documents that have to be sent as part of the Path to Freedom, Form #09.015, Section 2 process. If you as a member approach us with questions in the Member Forums or Contact Us page about Compliant Member Only Content, we reserve the right to require you to produce evidence that you are compliant and send it to us as a scanned PDF image through our Contact Us Page. If you cannot or do not produce said evidence, then you essentially have admitted that:
You committed perjury under penalty of perjury to obtain the materials.
You not only aren't compliant, but have violated the law.
In the above case, we reserve the right to terminate your account and block you from registering with our site in the future.
If too many people lie in obtaining Compliant Member Only Content, we may have to institute a manual step to require them to submit the above evidence before they can even become Compliant Members within our Membership System. Don't be a bad citizen and hurt everyone by lying to obtain our Compliant Member Only content!
Basic Membership and access to Compliant Members Only content are and always has been absolutely free.
There are two levels of Membership:
Basic Membership

. This type of membership is and always has been free. Everyone who downloads or uses materials on this site is a basic member per the Copyright/Software License Agreement. They can evidence their membership by signing and faxing the first and last page of the Member Agreement. If they want access to Compliant Members Only Content, they must also join the Member Forums, which is also free.
Member Subscriptions. Access to premium content by joining our Member Subscriptions offering. Must be a Basic Member before joining.
The reason we have Compliant Members Only content is because:
We want to enforce the mandate in our Member Agreement that only those who expressly consent to the Member Agreement AND comply with it fully can send our tax materials to third parties or use our tax services.
We want innocent third parties to be protected from harm by the misuse of our materials.
We want to ensure that the people who use our materials are properly educated and qualified so they don't misuse them, discredit us, or undermine otherwise good remedies.
We don't want those in government or the legal profession circumventing the effectiveness of the content.
We want to keep track of the popularity of specific content so we can focus our limited resources on improving the most important content.
We want to collect comments on the content. The Member Forums allows members to comment on the effectiveness of the materials and to provide feedback and errata on its accuracy. Every Compliant Members Only content item has a comments section.
We want to further encourage Member Forum participation so that Members will use the forums instead of our Contact Us page to communicate with us and help each other solve problems together. Our Contact Us page is often overused and abused by people who are NOT members in order to get undeserved help.
We want a vehicle to use against by de facto government abuse of our materials. Government workers who download our content and use it in a legal or enforcement proceeding against either Members or Officers of the ministry will be subject to the license terms of the Member Agreement. They must thereby consent to be financially and legally CRUCUFIED if they use the materials in any litigation or enforcement action against either us or a member.
Consistent with the above, all Compliant Members Only content satisfies the criteria that it relates to taxation and could or might be sent to third parties by readers of our website in their interactions with the legal profession or courts. The following notice found at the bottom of the opening page of this website describes constraints on the "use" of our materials in interacting with such third parties:
Important Note
To access Compliant Members Only content after you have joined the Member Forums, you must:
If you aren't already a member of the site (either Basic Member or Member Subscriber), then join the site as a Basic Member by Registering on the opening page in the upper left corner.
Login to the site. The right upper right area of this page is the login area. Click here for a training video on logging in and logging out.
If you have not already signed up, join the Compliant Members Only area (free) by Clicking Here, adding the item to your cart, and finishing checkout. The link WILL NOT work unless you are logged in. Otherwise you will get a Restricted Access Notification.
Go to the Forums/Publications Page and click on the Compliant Members Only item you want to view and add it to the store shopping cart.
Complete the store checkout for the item(s) you added to your cart.
A confirmation email will be sent to your email address containing links to download.
If you don't want to wait for the order confirmation email or it never arrives, you can alternatively:
7.1 Click on Bookstore->My Account.
7.2 Click on "Orders" on the left.
7.3 Find the order in the list and click on it.
7.4 Download the item directly through the store interface.
After you login to the Member Forums, you stay logged in permanently until you explicitly log off. This is true even if you shut off your computer or exit your browser application. Your login information is stored in the cookie that you create when you login. If you disable cookies on your browser or delete all your cookies, you will have to re-login again in order to view Compliant Members Only content.
The only thing you need to do to access Compliant Member Only content after joining is to simply make sure you are logged in. If you don't login before trying to view Compliant Members Only content, you will get the Restricted Access Notification.
Click on the link below to view all Compliant Member Only Content. You must be logged into the site first in order for the link to work properly:
You can verify whether you are already signed up by clicking on the Participate->My Active Memberships in the top menu. Doing so will show you whether you participate in either Compliant Member Only or Member Subscriber. Nothing will show if you are merely a Basic Member.
If you verified that you are already signed up using the above procedure but you still can't download, then there is a problem with the permissions on the item you are trying to obtain. Please use our Contact Us page to notify us of this problem.
Also, sometimes even after you sign up, we clear out our transaction log and so you may sometimes lose eligibility. If you were already signed up but lost the eligibility at any point, merely rejoin using the procedures in the previous section.
The classification of a specific form, publication, or litigation tool is indicated in the column entitled "Source" on the Forms/Publications page or the Litigation Tools page. Forms, publications, and litigation tools which are designated as "Compliant Members Only" will have "Compliant Members Only" in that column.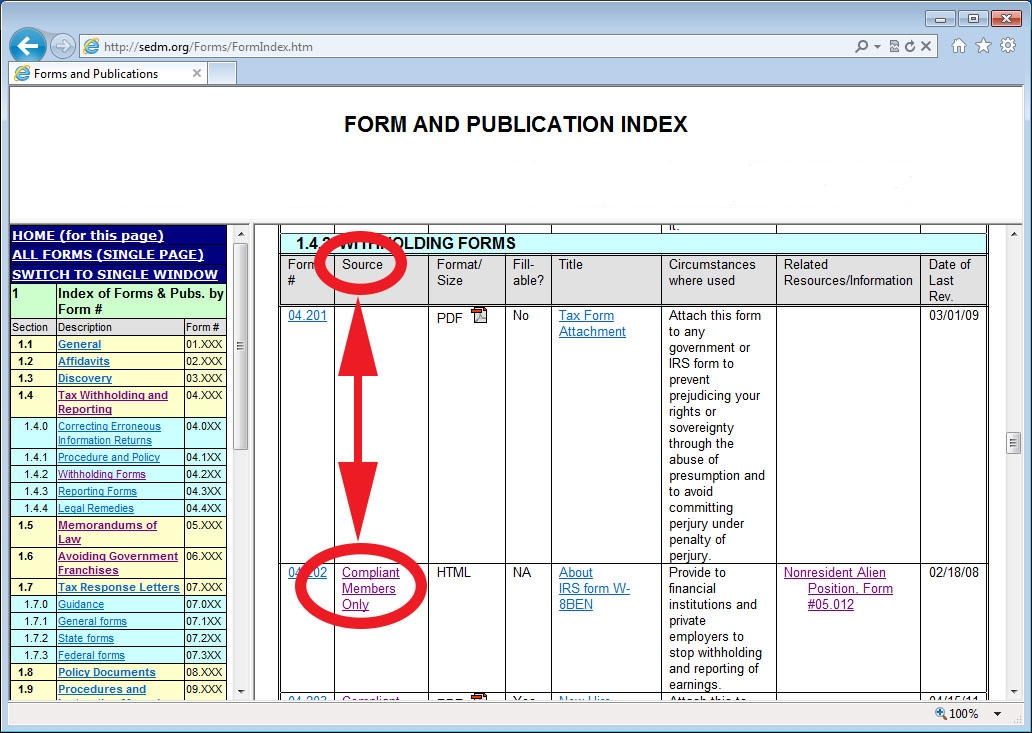 Free video training is available on how to use the Forms/Pubs page. See Support Page section 2.3 or Click Here to immediately watch the video. You will need either Windows Media Player that comes with Windows or the free VLC Media Player installed on your computer to watch videos on this site.